Here we are: Issue 52, the final issue of Learned, Volume One; It's been a full year of this newsletter now and I thought it might be a good chance to reflect, wrap-up, and discuss what's coming in Volume Two. So, without any further preamble...
In this issue:
What We're Learning: How to Newsletter

What We're Reading: Zen in the Art of Writing

Down the Rabbit Hole: What Have We Learned
Let's get to it.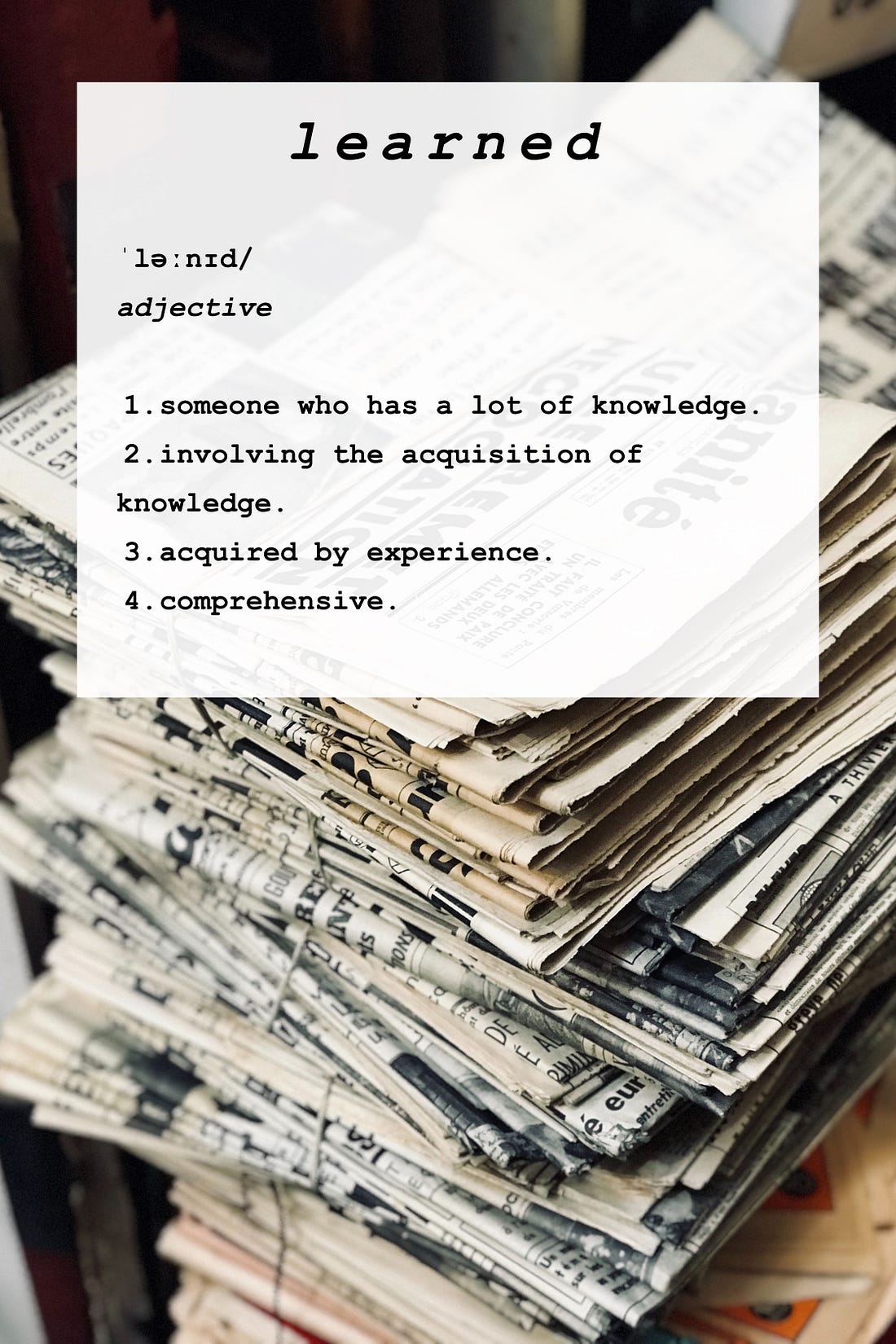 Photo by Mr Cup / Fabien Barral on Unsplash
What We're Learning:
How to Newsletter
I started my first blog back in the year 2000 before the word "blog" even existed. I wrote short, humorous (or at least, attempts to be), pieces about my adventures in Japan as a recent ex-pat. I hand-coded everything in HTML and posted them up on my website. Over the years, I've changed formats, mediums, hosts, and everything else, with the one constant being me.
I like to write and I like to write in public as a way of making my thoughts more presentable to the world and occasionally generating a bit of conversation or discussion about something. This newsletter has been a good example of that - I find a topic I'm curious about, do a bunch of reading, and try to present something slightly more organized than a barroom chat, but not as formal as an academic paper on the subject. It's been fun.
It's also been exhausting. The major difference between a newsletter and a blog is the delivery system. And, to me, that meant setting and maintaining a schedule. If a blog is updated whenever the author(s) get around to it, a newsletter should go out at a pre-determined time. If I'm going to ask for a portion of your inbox real estate, I should make good use of it.
This photo, which I put on Unsplash about a year ago, is unarguably the most popular thing I have every set out in public. Sometimes I think I should just stick to photography, but that would be boring.
That feature has been illustrative for me. In striving to meet my deadline, I've learned more about how I work and how I should work. I've always been a procrastinator; I've always just gotten by. By doing this newsletter consistently for a year, I've learned that I can see when I took my time and did things with care and when I just winged it. I prefer the former, even though it's a lot more work.
Doing a weekly newsletter has also pushed me to develop new skills. I've gotten much, much faster at researching things and designing basic graphics. I've gotten faster as a writer and more fluid in the subjects I'm able to write about. And, I'm finally, in middle age, developing some consistent work habits.
And so, I really want to continue this experiment.
Certain things need to change, though. For one thing, some of the most consistent feedback I've seen suggests that this newsletter is just too long. At roughly 2,000 words per week, it takes too long for people to get through the whole thing. Fair enough. The other major criticism is more difficult to handle - some people really like the randomness of the topics, others wish they were narrowed down and more consistent.
Starting next week, with Volume 2, Issue 1, I'm going to make several changes to the format and structure of the newsletter. It will be shorter and it will be focused on a single word or phrase, but it will still be essay-ish in nature (as opposed to a list of links). I hope you'll stay with me and continue to read, but if this is as far as we go together, then thank you for reading.
See you next week with Volume Two of Learned.
---
What We're Reading:
Zen in the Art of Writing: Essays on Creativity
by Ray Bradbury
I've tried many, many times over the years to express just how much Ray Bradbury has meant to me as a writer and as a person. I've never quite gotten there. How ironic then, that one of my favorite books of his to re-read is Zen in the Art of Writing. In this collection, Bradbury doesn't detail his process so much as just encourage the reader to find their own joy in writing and to devote themselves to it religiously. Easier said than done, trust me, but worthwhile advice none-the-less for that.
From the Amazon Page:
Part memoir, part philosophical guide, the essays in this book teach the joy of writing. Rather than focusing on the mechanics of putting words on paper, Bradbury's zen is found in the celebration of storytelling that drove him to write every day. Imparting lessons he has learned over the course of his exuberant career, Bradbury inspires with his infectious enthusiasm.
Maybe it's time to re-read it yet again...
---
Elsewhere:
joeldavidneff.net | joeldavidneff at gmail | @smileytoad | @joeldneff | coffee
If you like what I'm doing and what to support this newsletter, click on the subscribe button above. The free version gets this very newsletter sent to your inbox every week. The paid subscription lets you add comments and likes to every issue.
---
Down the Rabbit Hole:
What We've Learned
We've covered a lot of ground in the previous 51 issues, with topics ranging from K-Pop to Halloween. That said, there is an obvious pattern of language learning, which makes sense given that I'm an English teacher, and another pattern of essays about life in Japan, which also makes sense given that I live here. But as a way of looking back so that we can move forward, I'm listing ten of my favorite back-issues here with a few notes as to why I like it.
Learned #4: Four Panels and a Punchline
I was still feeling out the format for the newsletter at this point, but I had found what I wanted it to be about: learning things. As such, I wrote about learning to draw better and about the comic strips that inspired me as a kid. Going back and reading through hundreds of strips was the most fun I've ver had doing research.
This issue was just a lot of fun to write. Reading through the mass of pop-culture nonsense about the differences in generations only to find that it is, in large part, nonsense, was very satisfying.
For this issue's "Down the Rabbit Hole," I found a pop-culture reference for each of the different zodiac signs, which was both a lot of fun, and a hell of a lot harder than I would have imagined beforehand.
Learned #22: Whiskey, Bourbon, Scotch
One of the more personal entries into the corpus, this issue let me write about my teenage years as well as do a bit of creative writing in the rabbit hole.
I wrote this issue while on vacation in Hokkaido and, well, it's a good memory for me. Plus, staying in a hotel with a reading lounge was a novel experience that I hope to replicate again sometime soon.
Learned #28: La Dia de los Muertos
The whole point of this newsletter has been to let me research the things that were interesting to me and this topic had been on my mind for months. Learning about this holiday and the meaning of the imagery behind it scratched a mental itch I didn't even know I had.
As with some of the other issues mentioned here, this issue was a chance for me to both go back in time to something I used to enjoy a lot and to research something I find intriguing. The end result being that I really like playing brain training games even though they don't really do all they've promised to do.
Learned #40: 2018 & Learned #41: 2019
Having these two together only makes sense. Using the newsletter as a way of archiving things I found interesting from 2018 and making predictions for 2019 was a good experiment for me. It let me organize a lot of thoughts I usually have at the change of the year.
Learned #44: Worse Things Happen at Sea
This issue is notable for being both a failure (I was never able to find the origin of the phrase) and the inspiration for Volume 2 (but I really liked the search). It's still a good phrase to use.
I mean, I got to play with a bunch of Lego in order to write the letter, what's not to love?
That's it. Stay strong, stay healthy. Learn something.