In which we try to watch some t.v.
Hay-fever season has begun here in Japan and, as a result, my head feels like it's stuffed full of wool wrapped in cotton. In other words, this week, me no think good. This week's issue may be a little more scattered than usual, is what I'm getting at. That said, the two things on my brain this week, aside from cedar pollen, are streaming t.v. and baseball.
I'm not much of a sports guy. I'm more likely to know the personal histories of every Avenger than I am the names of current sports stars. But I've always loved going to baseball games. Something about the atmosphere, the casual speed of the game, the spring and summer season...it's always worked for me.
Baseball is almost as big in Japan as it is in the States. But for the first decade or so that I lived here, watching U.S. major league games was almost impossible. You could catch the wrap-ups on the news and the occasional, edited version of a game (especially when Ichiro was playing for the Mariners) but it was hard to keep up with everything due to lack of access.
That has changed quite a bit in the past few years and now I've got as much access as I want to pay for.
In this issue:
What We're Learning: Access

What We're Reading: The Art of Fielding

Down the Rabbit Hole: Pop Fly Culture
Let's get to it.
Photo by Justin Bashore on Unsplash
What We're Learning:
Access
Every year I promise myself that this year is going to be the year where I become a full-fledged baseball fan. I will take my Sunday afternoons and sit on the sofa and watch games from the first inning through to the last and drink beer and make snarky comments on player stats. Thus far though, life seems to have other plans.
When I got my first iPhone, a bit over ten years ago, one of the first apps I was able to get was MLB's At Bat. I put in my favorite teams (Padres, Mariners, Diamondbacks, and Rockies for anyone keeping score at home) and felt, for the first time in years, like I was caught up with the league. I suddenly had better, and more wide-ranging coverage than I had had since moving to Japan. I didn't need to track down one of the English language newspapers nor log onto the internet from my home computer, it was all right there in my pocket. Well, more accurately, it was right there in the palm of my hand, hidden under my desk where I could read it during meetings.
Over time, the app evolved and iterated (there are currently a half-dozen official apps on the MLB site), the price kept changing. The app became free but better access to the games got pricier. Tiers were introduced. These days, At Bat has leveled off at about $20 per year and gives me everything I could ever want except full broadcast games (even then, you can get the radio broadcast and tv highlights and clips, just not full games)...but this isn't really about baseball as much as it is about how t.v. access has evolved.
In the early days of iTunes, it was a godsend - finally a legit way to get U.S. t.v. shows and movies without having to resort to piracy or having DVDs shipped over from the States. But even then (and now) there were so many weird licensing issues and region-locks that it was never a sure thing that you'd be able to watch...anything.
The past ten years have seen so much change in how media is offered worldwide that I'm left wondering where it's all going to go. As I said above, I can now get U.S. baseball games in a couple of different ways, depending on how much and how often I want to pay; I can get all kinds of Japanese sports through Amazon's streaming service and they were previously restricted to a handful of cable networks.
Of course, the key word in all of that is "streaming." I've got subscriptions to two networks, Netflix and Amazon Prime, but there are many more becoming available (many of the ones first available in the U.S. are only recently becoming more global), not to mention all those branching out to other forms of media (like Spotify, etc.) And, of course, there's always fan-recordings on YouTube.
But it begs the question - how does live sports factor into streaming media?
So far, the answer seems to be that it doesn't. MLB.tv lets me watch highlights and clips from games starting 90 minutes after they've finished, but they put everything behind a region-lock. And neither Netflix nor Amazon actually stream anything live. All their content is pre-recorded and pre-produced. Really, all I'm getting at, is that for all the access I have now or that is currently being developed, nothing yet lets me sit down on my sofa and drink a beer and watch a baseball game live as it's being played 15,000 miles away.
Maybe next year.
---
What We're Reading: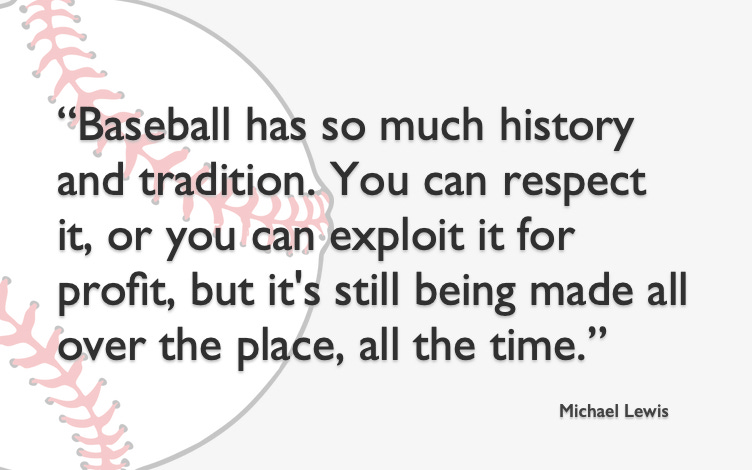 by Michael Lewis
Moneyball made a huge splash upon publication in 2003. It told the story of Billy Beane and the Oakland Athletics as they formulated a new approach to finding talent and building a roster based on stats and numbers instead of intuition and observation. It's an interesting read both for its takedown of old-boys' club baseball and for its love-letter-like qualities as it describes the math geeks who love baseball because of the numbers.
From Amazon's page:
Billy Beane, general manager of MLB's Oakland A's and protagonist of Michael Lewis's Moneyball, had a problem: how to win in the Major Leagues with a budget that's smaller than that of nearly every other team. Conventional wisdom long held that big name, highly athletic hitters and young pitchers with rocket arms were the ticket to success. But Beane and his staff, buoyed by massive amounts of carefully interpreted statistical data, believed that wins could be had by more affordable methods such as hitters with high on-base percentage and pitchers who get lots of ground outs. Given this information and a tight budget, Beane defied tradition and his own scouting department to build winning teams of young affordable players and inexpensive castoff veterans.
They made a pretty good movie about it, too.
---
Elsewhere:
joeldavidneff.net | joeldavidneff at gmail | @smileytoad | @joeldneff | coffee
If you like what I'm doing and what to support this newsletter, click on the subscribe button above. The free version gets this very newsletter sent to your inbox every week. The paid subscription lets you add comments and likes to every issue.
---
Down the Rabbit Hole:
Pop Fly Culture
Baseball is such an engrained part of American culture that Wikipedia's list of baseball films numbers well over 100 and Goodread's list of Best Baseball Novels of All-Time currently stands at 107 entries. And that's not even getting into the songs, records, comedy routines, and who knows what else that's been entered into the popular consciousness over the years. Here are a few favorites:
The Sandlot is the only movie you ever need to see about Baseball. There are no famous players, no major teams. Instead, there are just a bunch of kids, a summer vacation, and the empty lot down the street. It is fantastic.
The Art of Fielding is almost a counter-point to Moneyball. If that book is all about the numbers, then TAoF is all about the romance. The book centers around four people at a small college, baseball, and the novel Moby Dick. It, too, is fantastic.
George Carlin: Baseball vs. Football. Just watch.
That's it. Stay strong, stay healthy. Learn something.